Rhubarb Salsa
Posted by Pearl
Comments Off

on Rhubarb Salsa
Tagged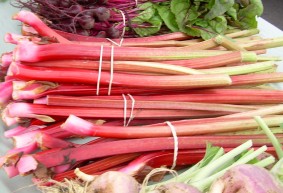 Rhubarb can make a delicious salsa that will keep your taste buds screaming for more.
Check out how. Let us know what you think on our facebook page!
Ingredients: 2 cups finely chopped rhubarb; 1 diced sweet red pepper; 1 diced sweet yellow pepper; ¼ cup chopped cilantro; ¼ cup finely chopped green onions; 1 or 2 minced chili peppers
Blanch 2 cups finely diced rhubarb in boiling water for 10 seconds. Refresh under cold water. Combine with ½ c each of sweet red peppers, sweet yellow peppers and cilantro. Stir in 1/4 c. finely chopped green onions and 1 or 2 minced chili peppers. Stir in 2 tablespoons fresh lime juice. Add brown sugar, salt and pepper to taste. Serve with chips or over top of chicken or fish.